I spent my time at Tally bouncing between the flagship Tally app and their now-sunset savings app Tally Save. My work for Tally proper included refreshing the blog newsletter, teaming up with product design to tackle the beginnings of a rebrand, assisting with communication designs, optimizing the App Store creatives, and lending a hand with ad creatives.
Blog Newsletter
One of my favorite projects I worked on at Tally was refreshing the blog newsletter. Working with the Managing Editor of the blog, I put together a wishlist of changes and additions he was looking for and got to work.
1.
Allow for a more visually interesting approach
2.
Create an easy to use template
3.
Provide more context before the fold
The first step was to research current trends. The newsletter was stuck in the past, and it needed a facelift. Two directions stood out, one illustrated and one typographic, both with an eye-catching header that encourages you to read more. The new header includes vital information that was missing in the original template, like a date/month of issue, the option to view in browser, and a call-to-action.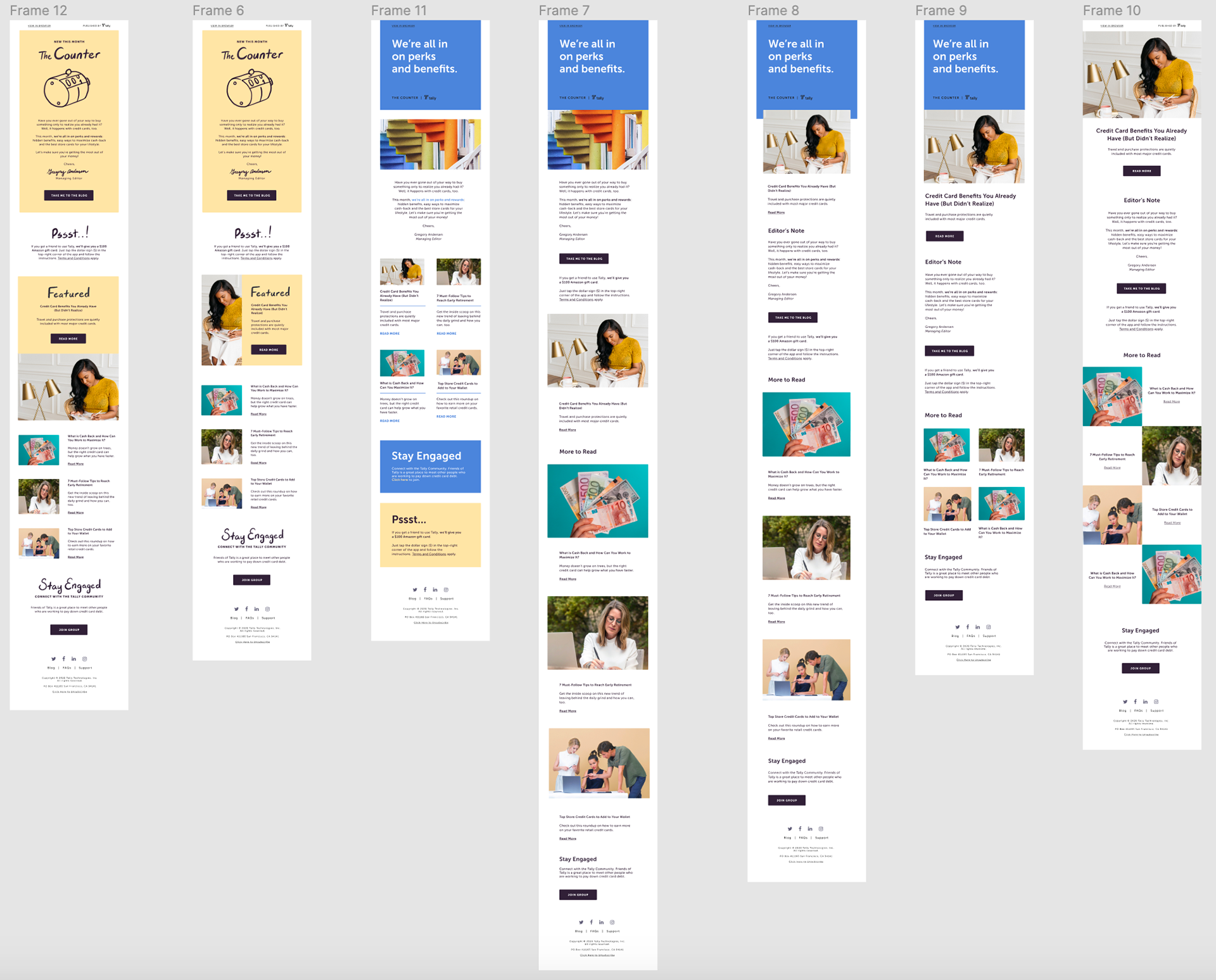 At this time, Tally didn't have a defined photography style and relied mainly on illustrations or stock photos. This influenced the decision to pick the more hand-illustrated option to avoid too much focus on the photography.
Being a marketing tool, it made more sense to let the information breathe and make it more consumable for the reader. One instance of this was pulling the referral offer out of the editor's note and giving it its own space, making it read more as an exclusive perk, rather than an afterthought.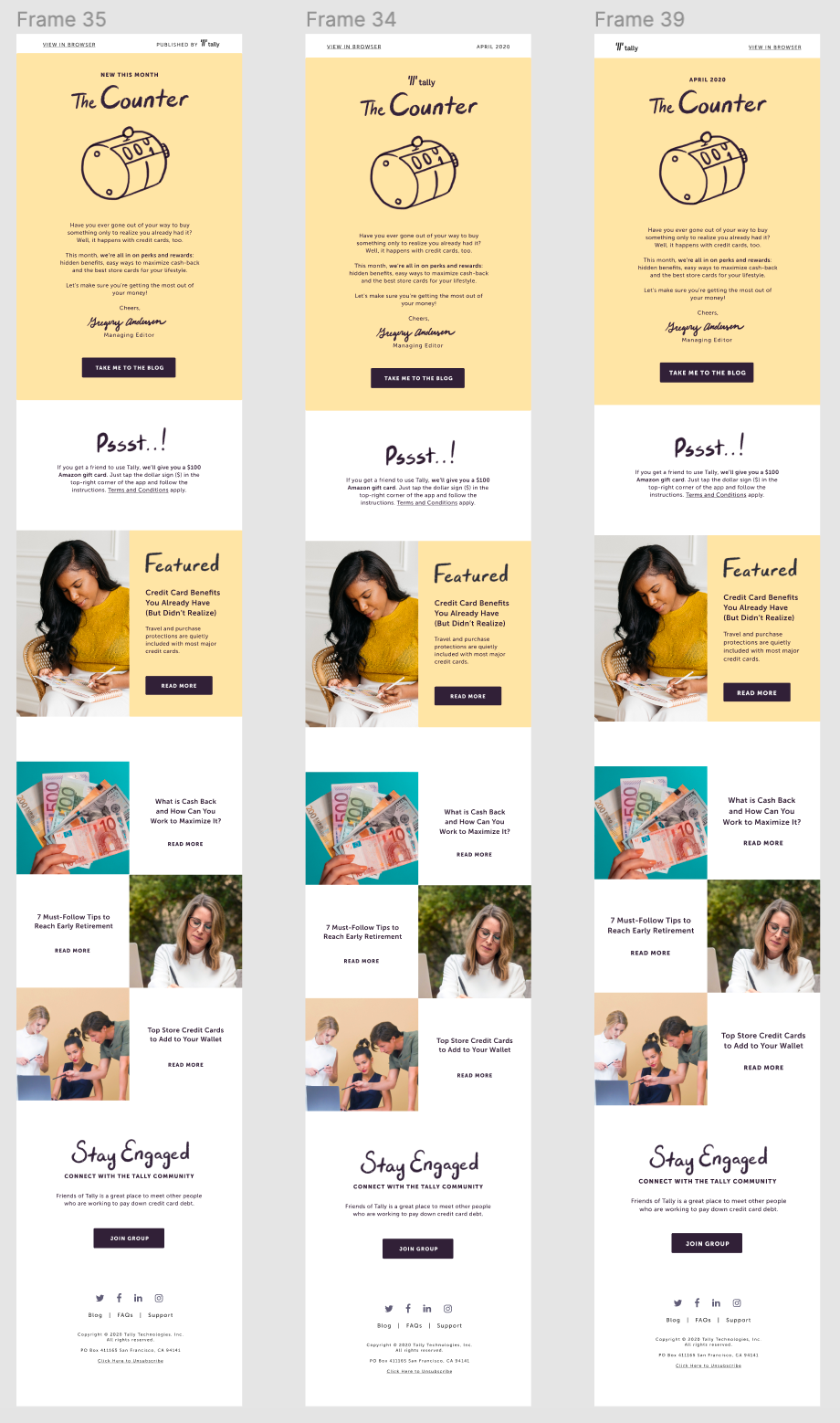 The counter image is also a fun animated GIF to help peak the reader's interest right off the bat.
The final structure of the email held true to the original, with the additional referral section, flowing from the editor's note to a featured article, followed by additional reads and the option to connect with other Tally users through the Friends of Tally Facebook page. A very simple layout that is easy to edit month to month.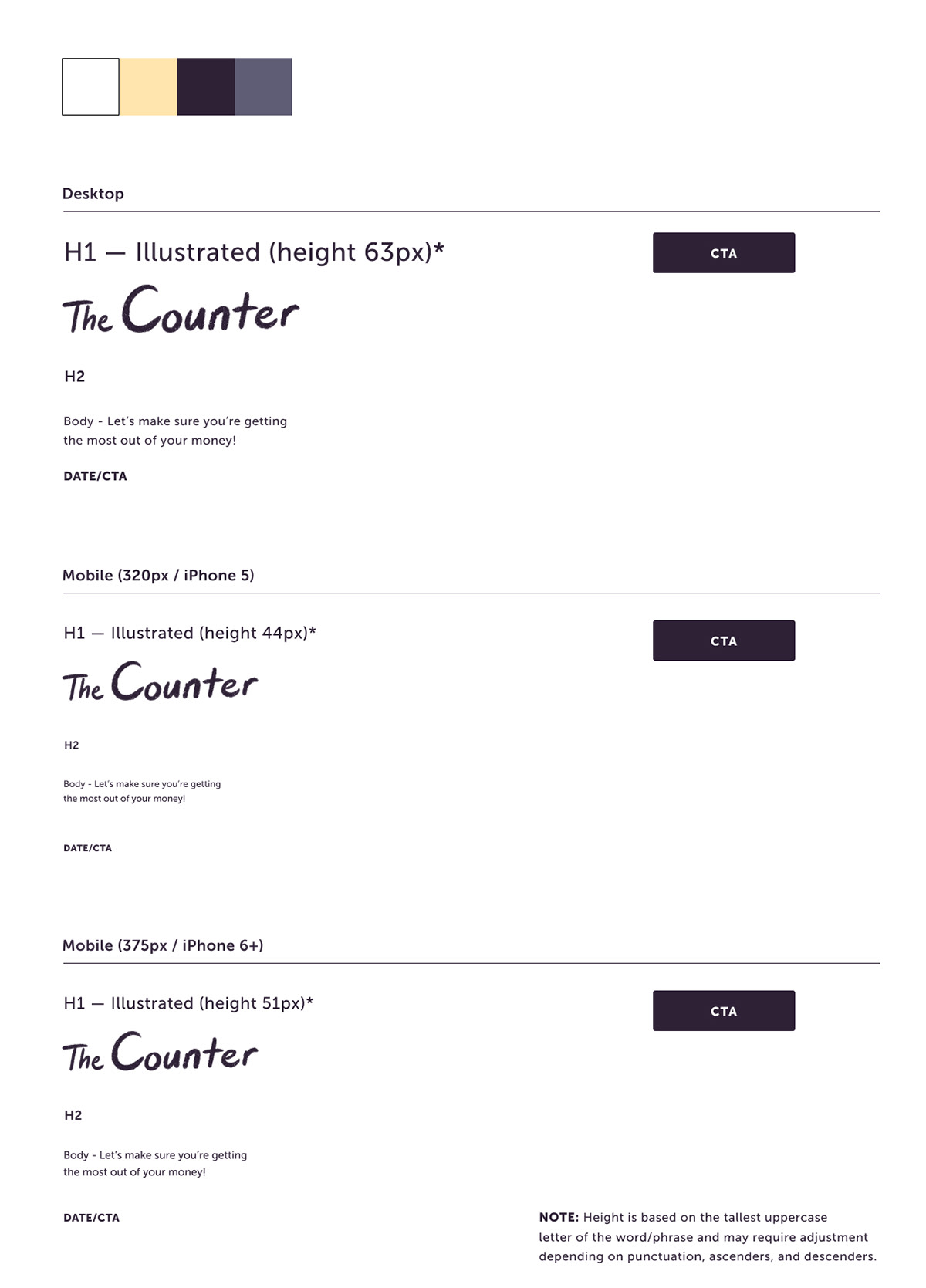 Rebrand
For 3 months, I was part of a team of designers aiming to rebrand Tally, starting with our color palette. I represented the marketing team, focusing on how the palette would translate into ad campaigns, photography, and illustration.
The project was still in the works at the time I left Tally, but much amazing work was accomplished by my tiny team. Guided by our design principles and values, we set out to craft a palette that embodied optimism, motivation, and confidence.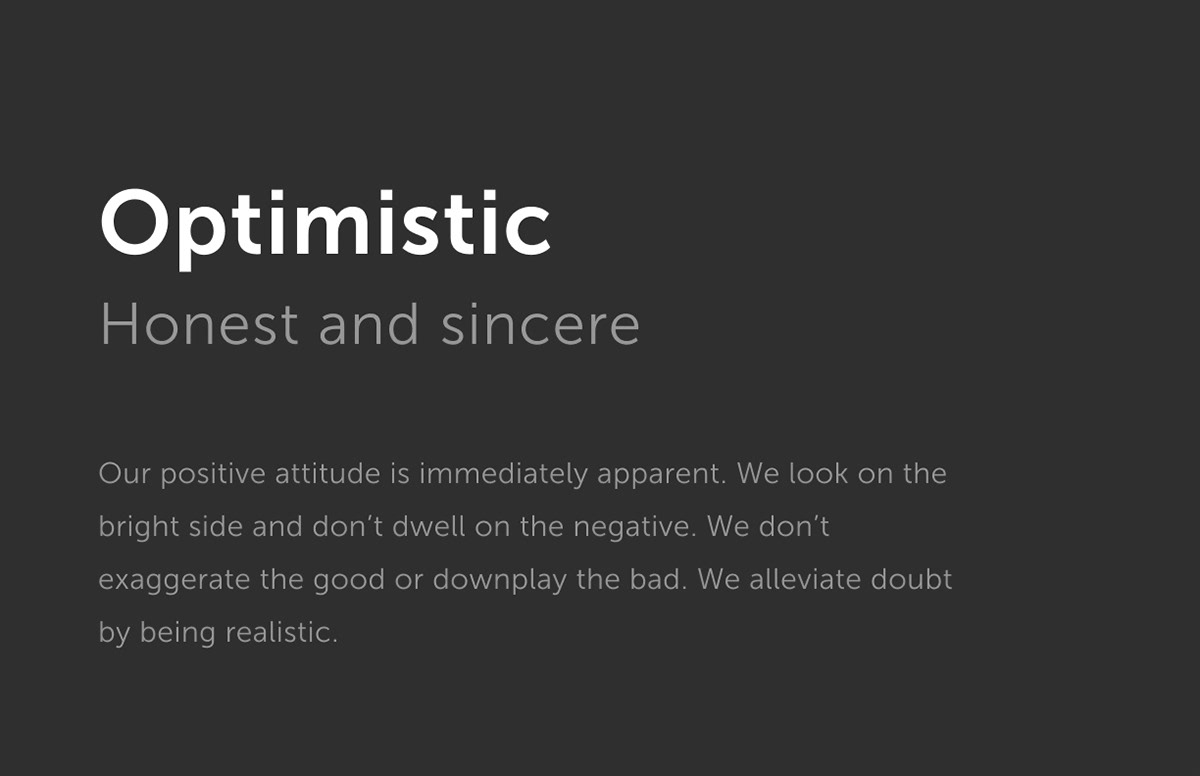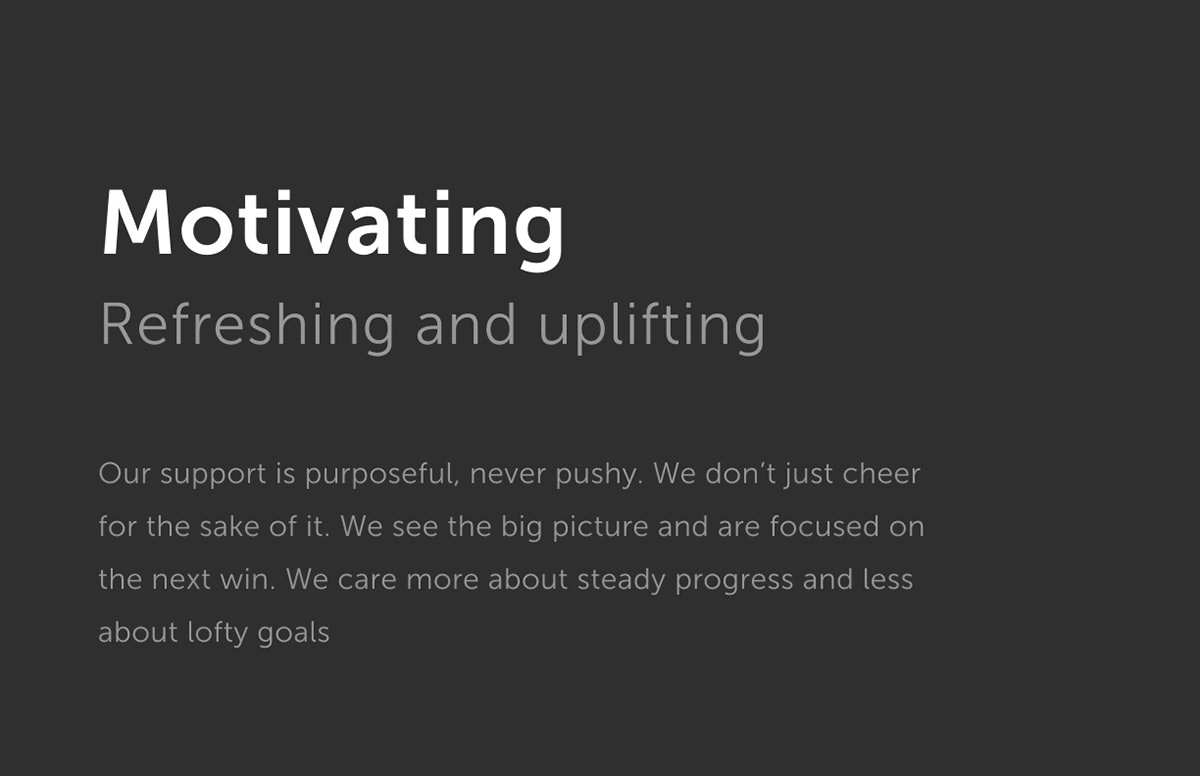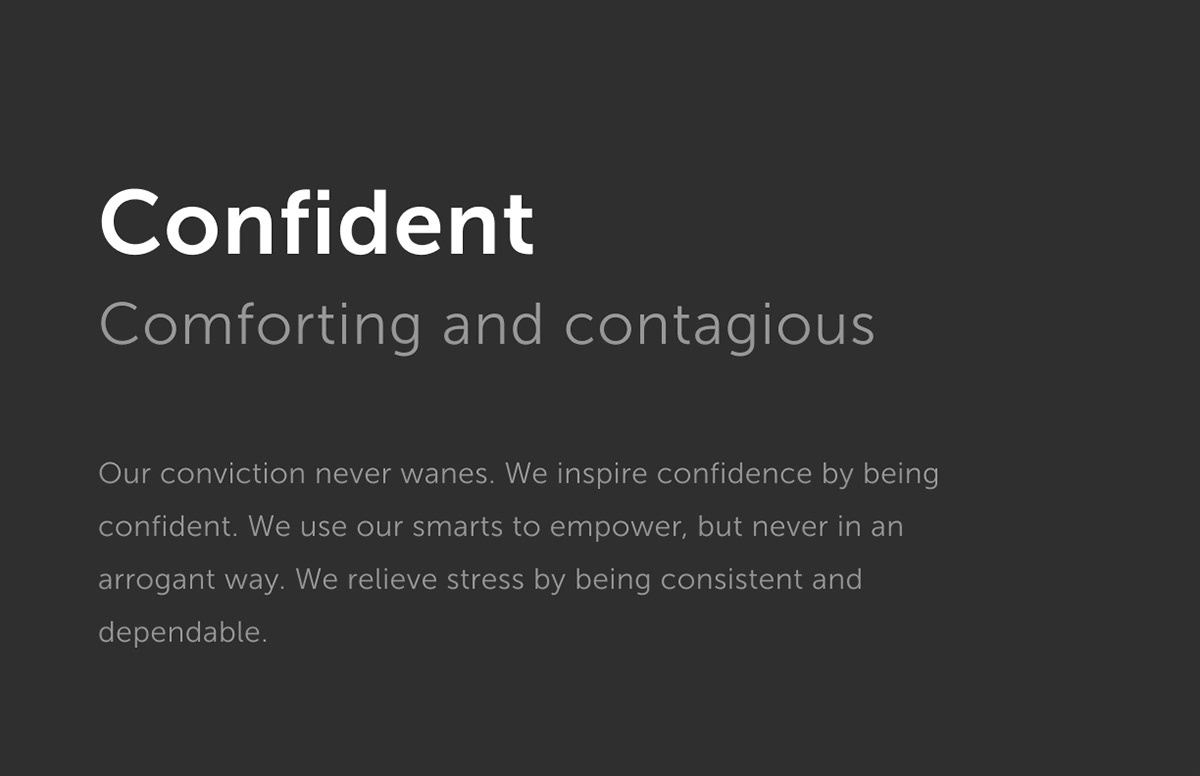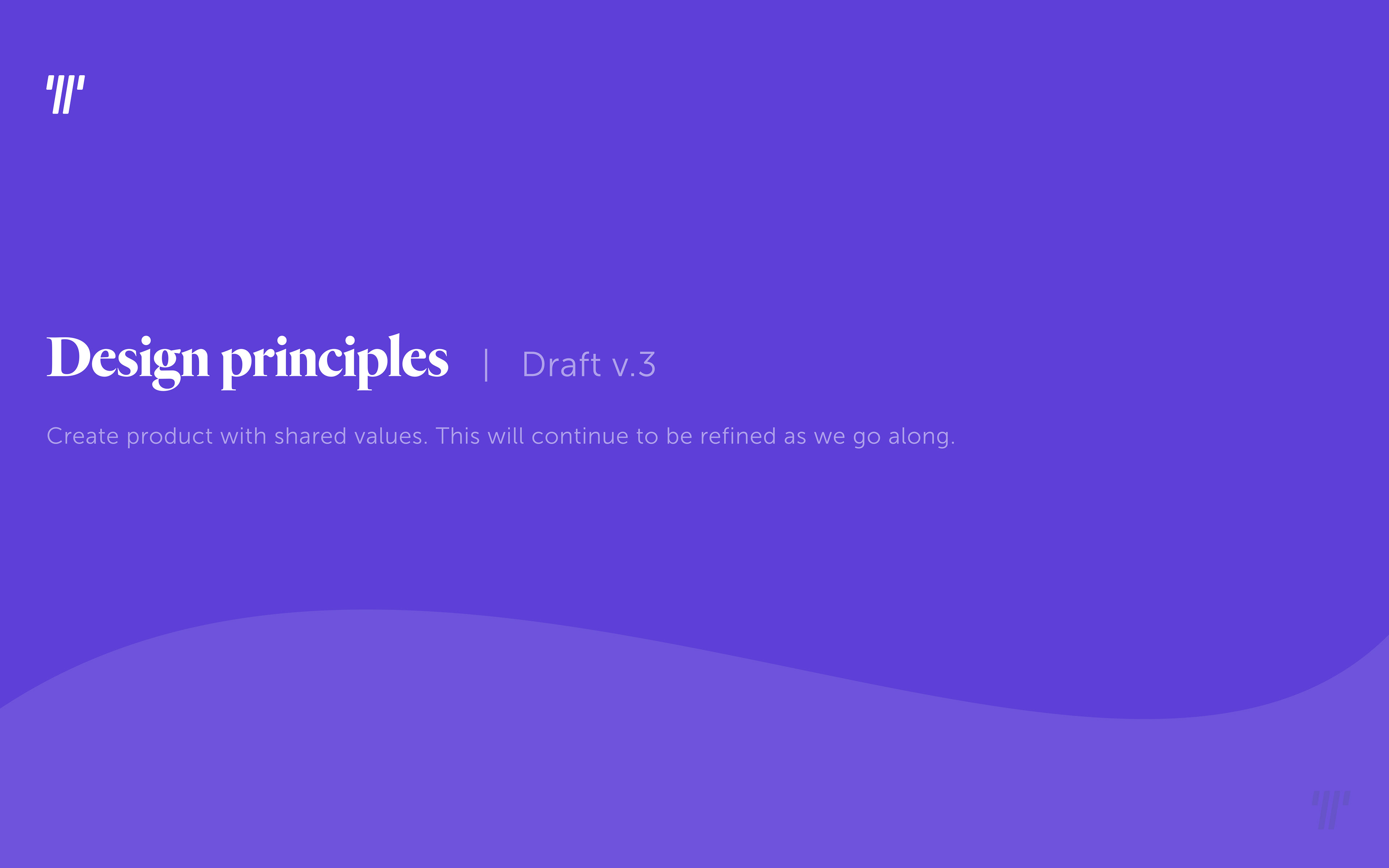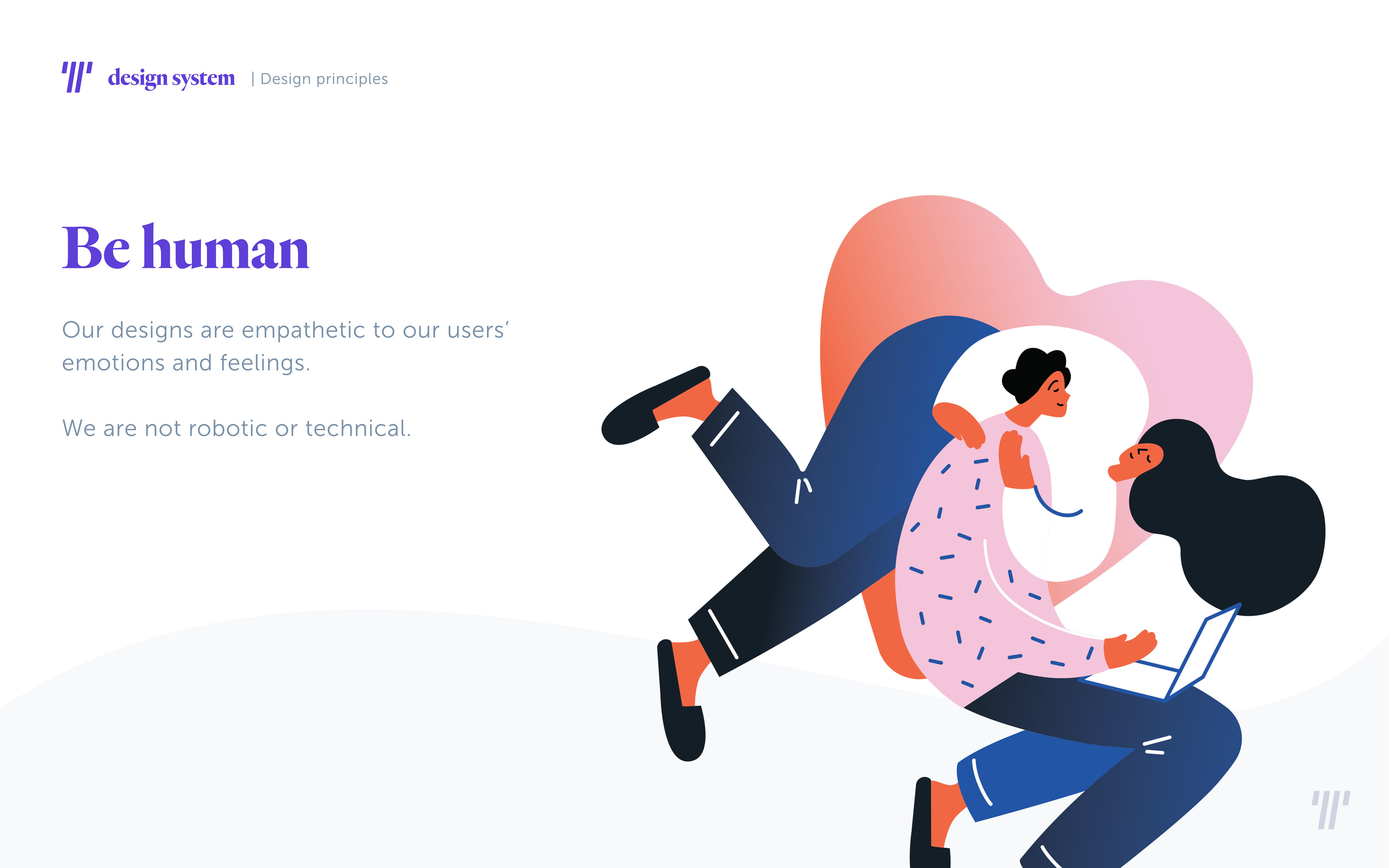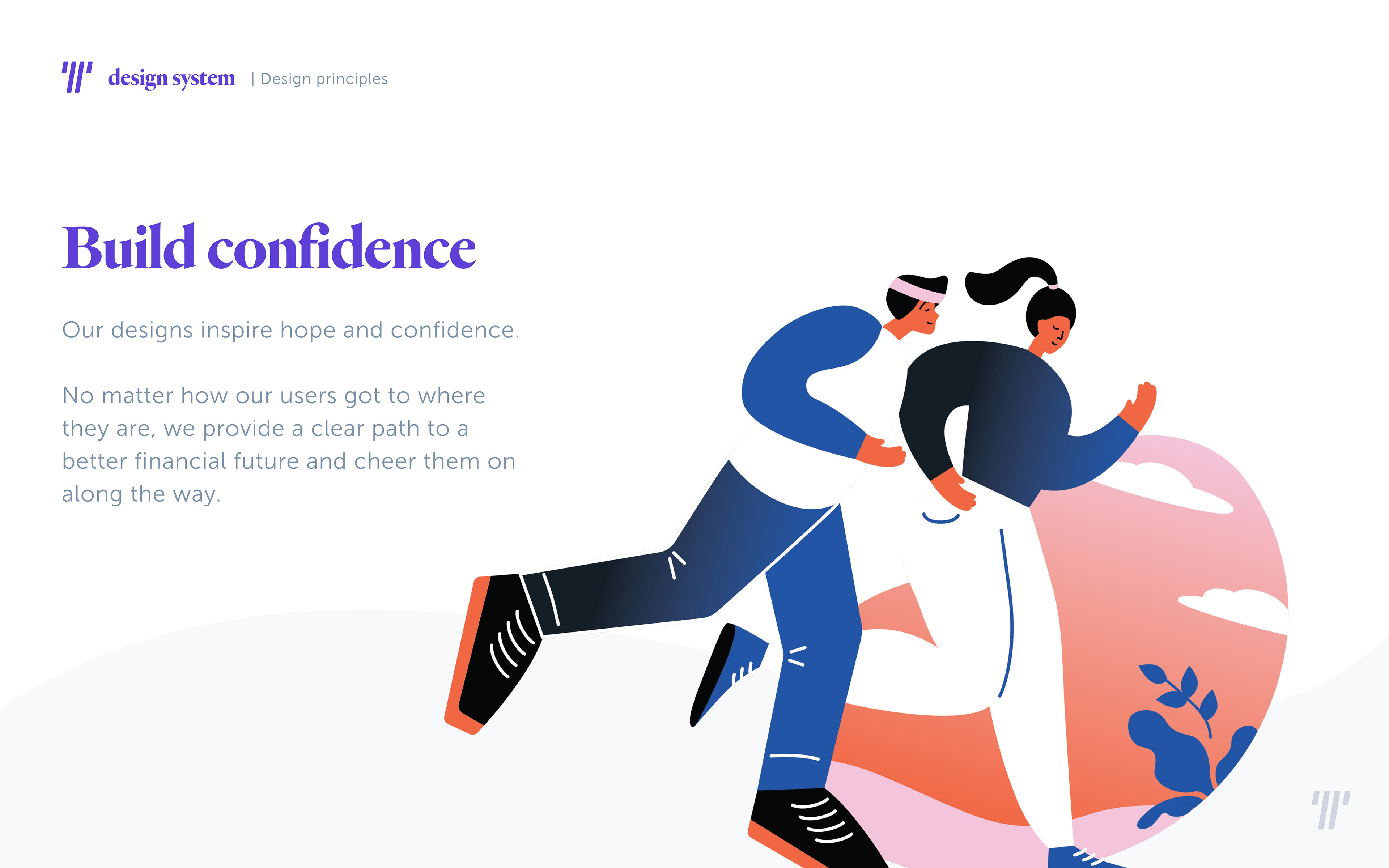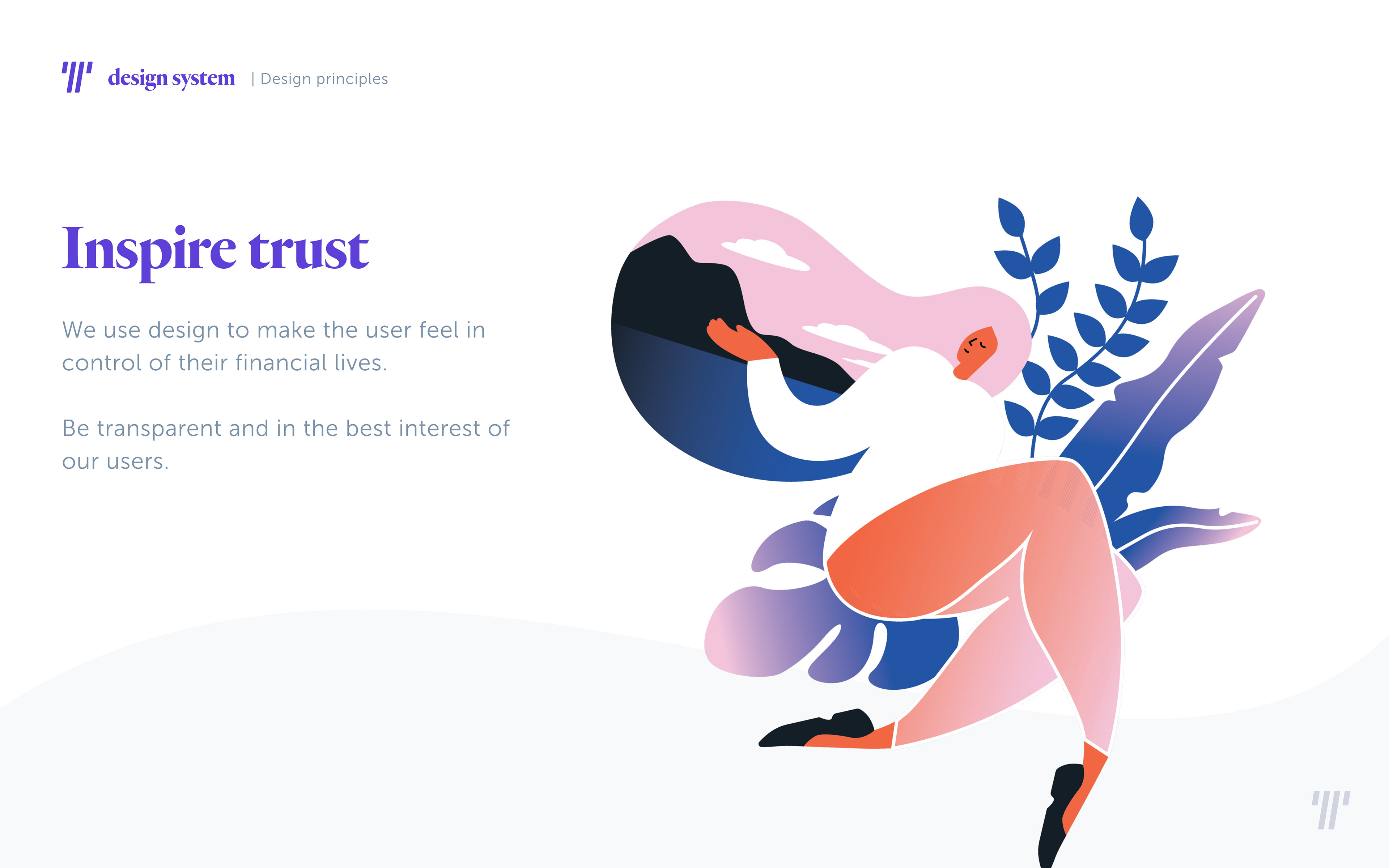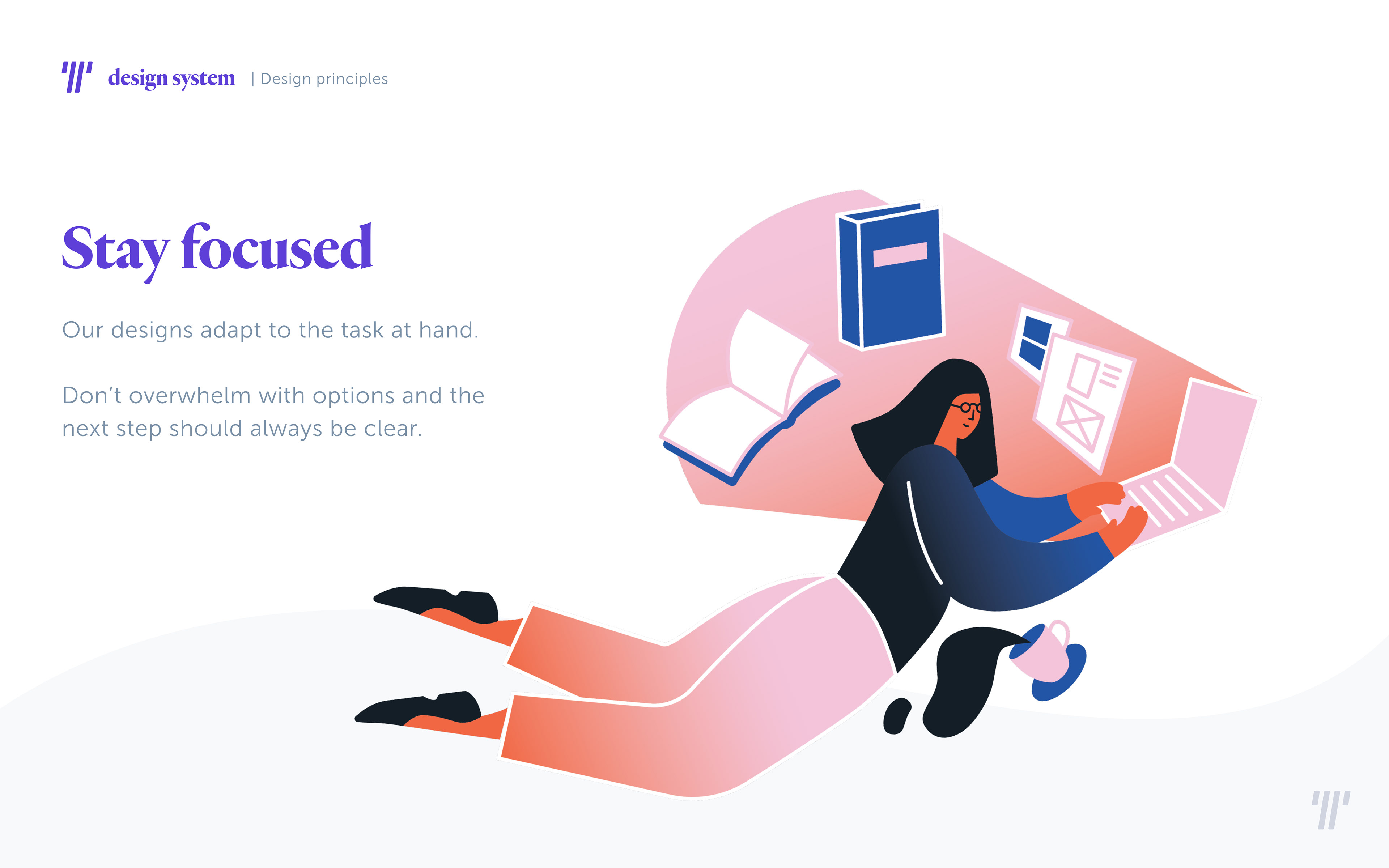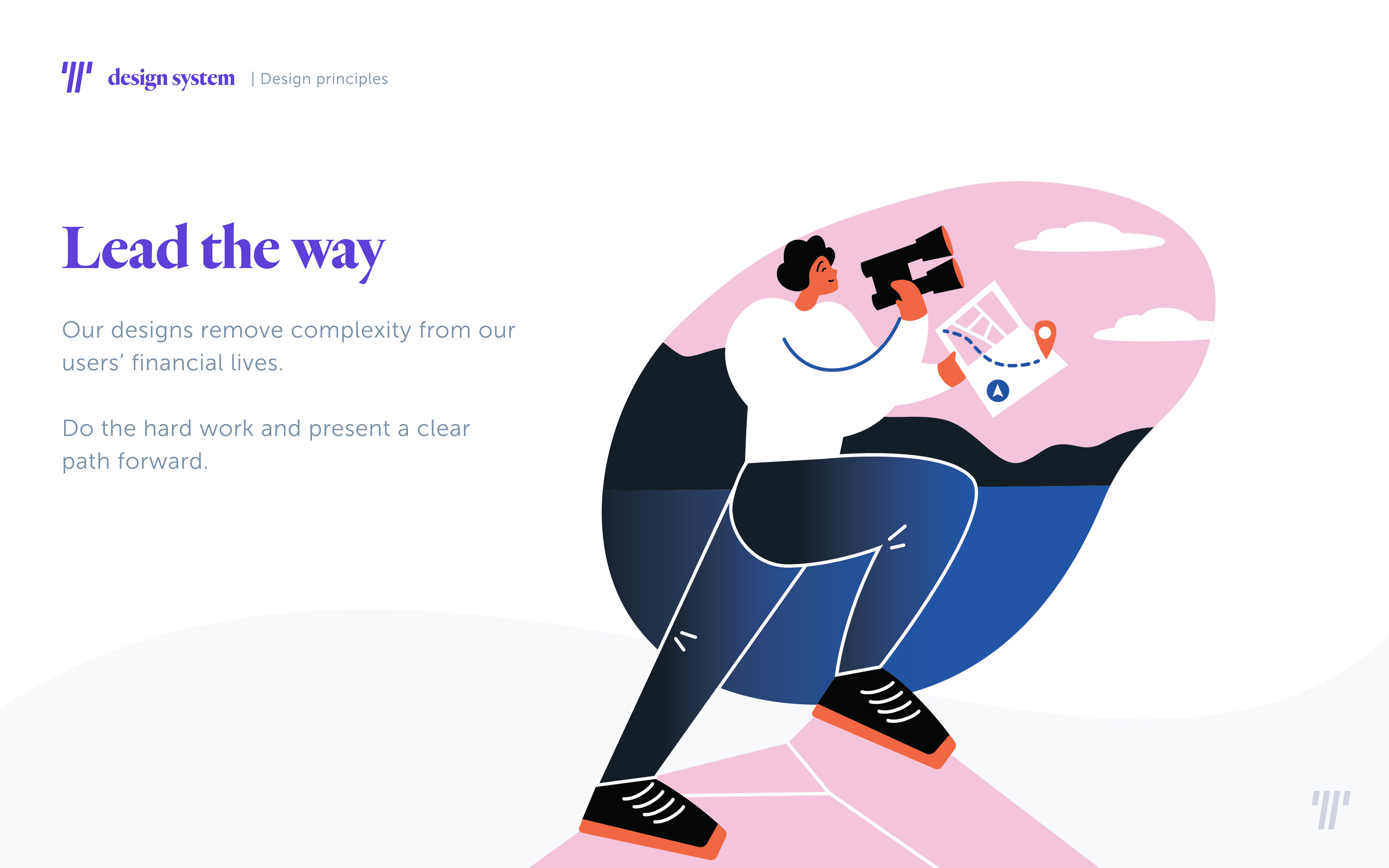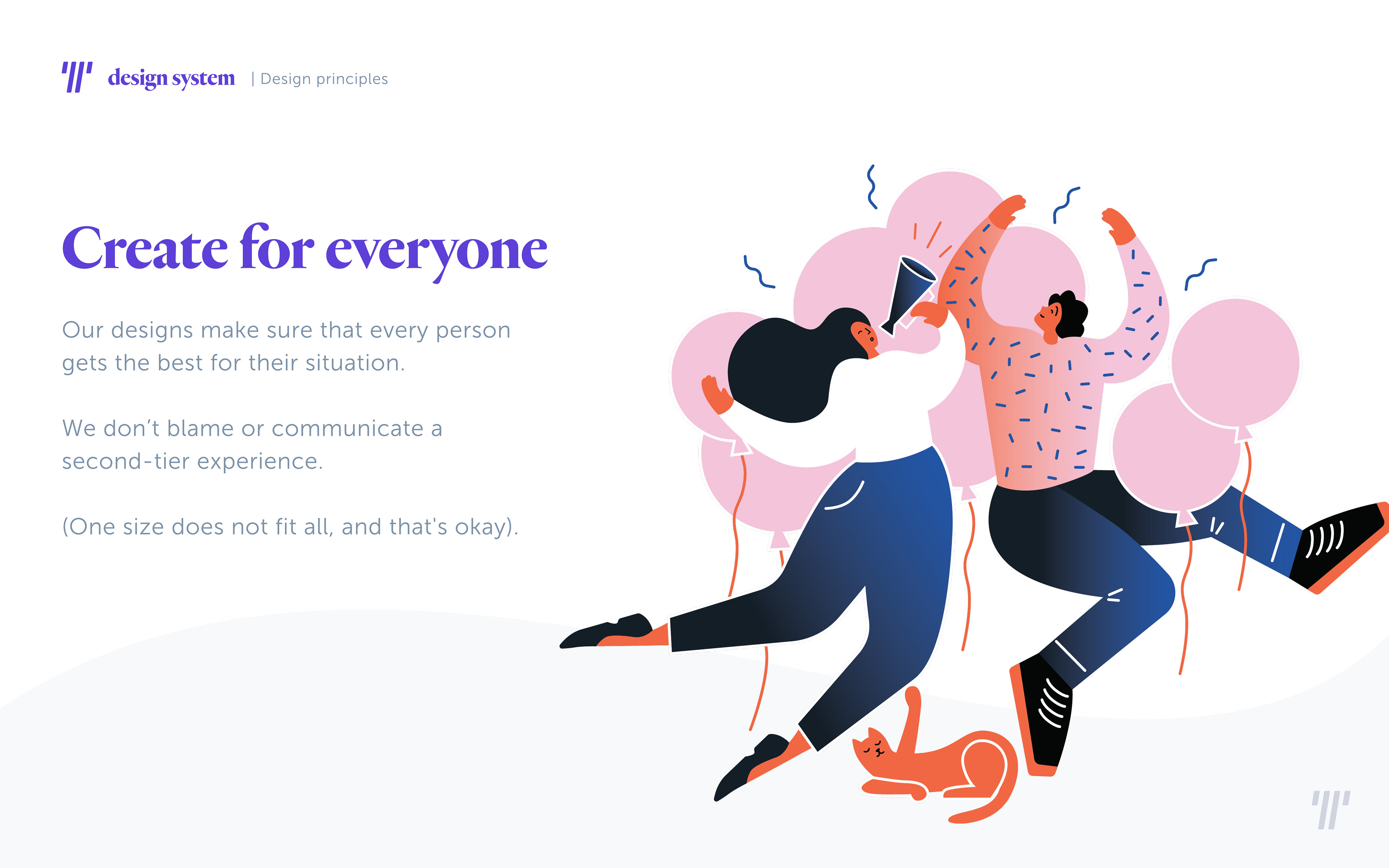 As a first step, we isolated our original color palette and began to explore alternative pairings based on individual colors. We threw a wide net, considering many different versions of Tally. Between myself and my team of product designers, we thought through a pared down palette for UI, extended palette for illustration, and ensured that everything would be compliant with accessibility standards.
After our initial explorations of color, we voted on those that felt the most true to who Tally is, and began crafting style tiles that brought together all of the elements in a bite-sized "brand".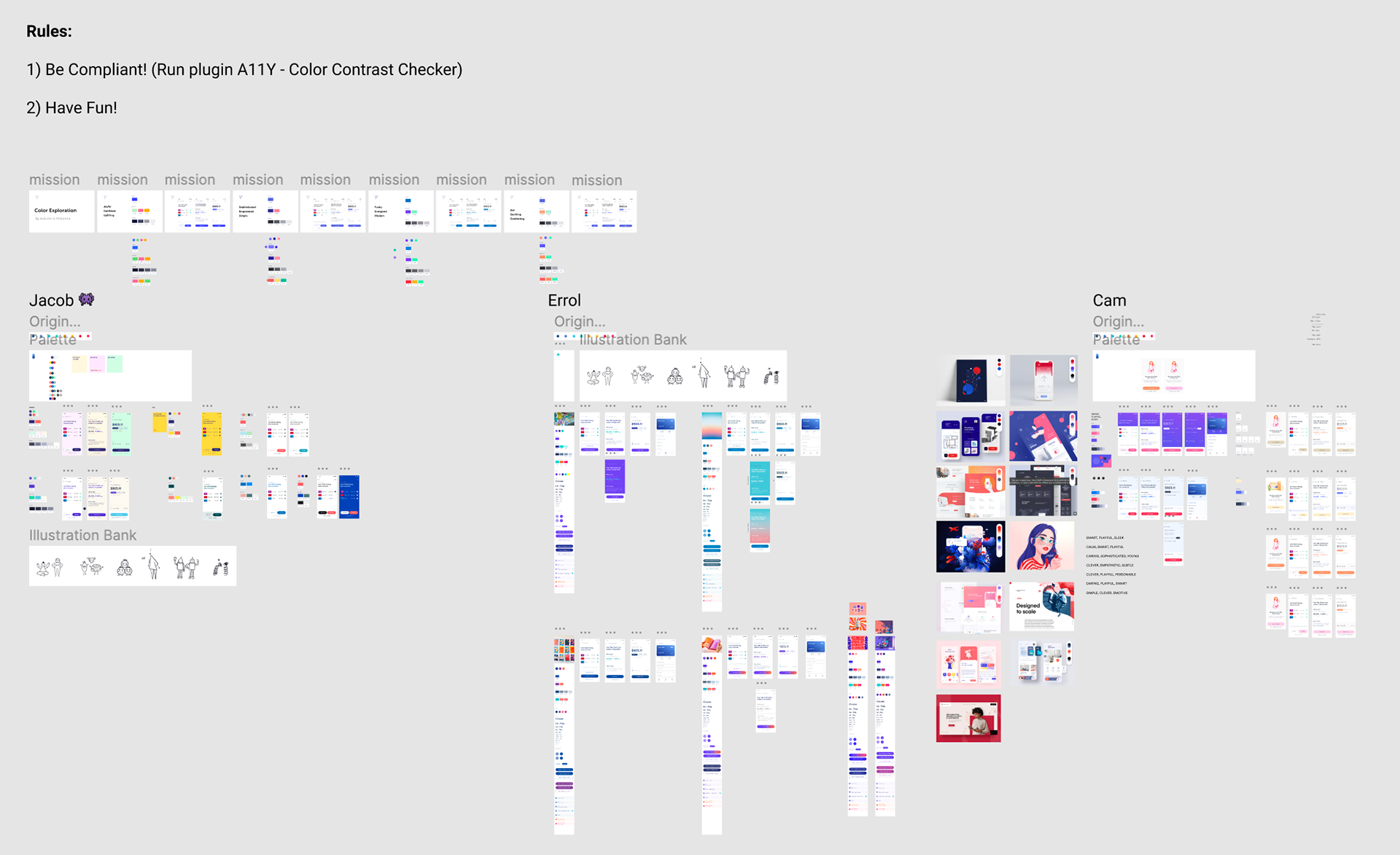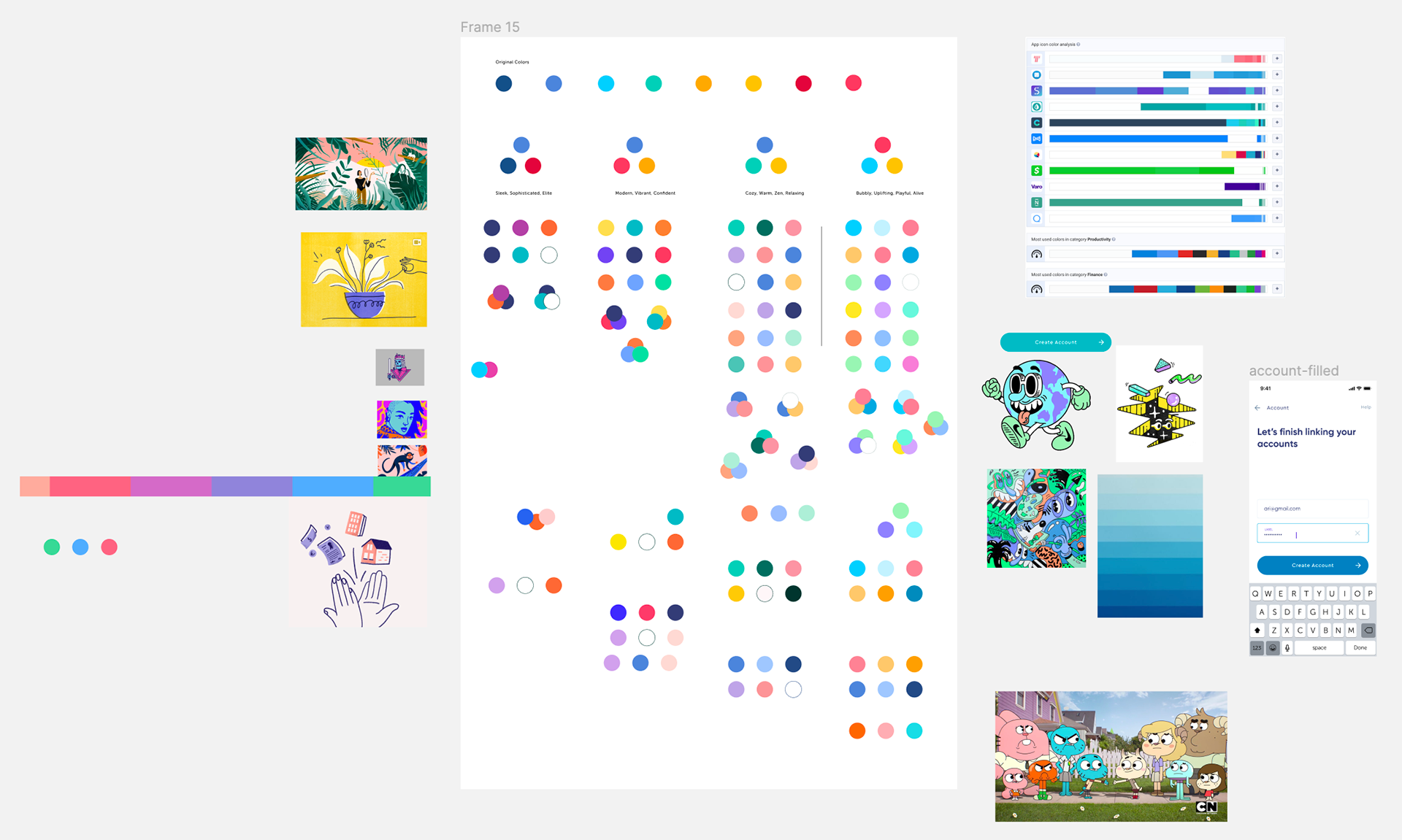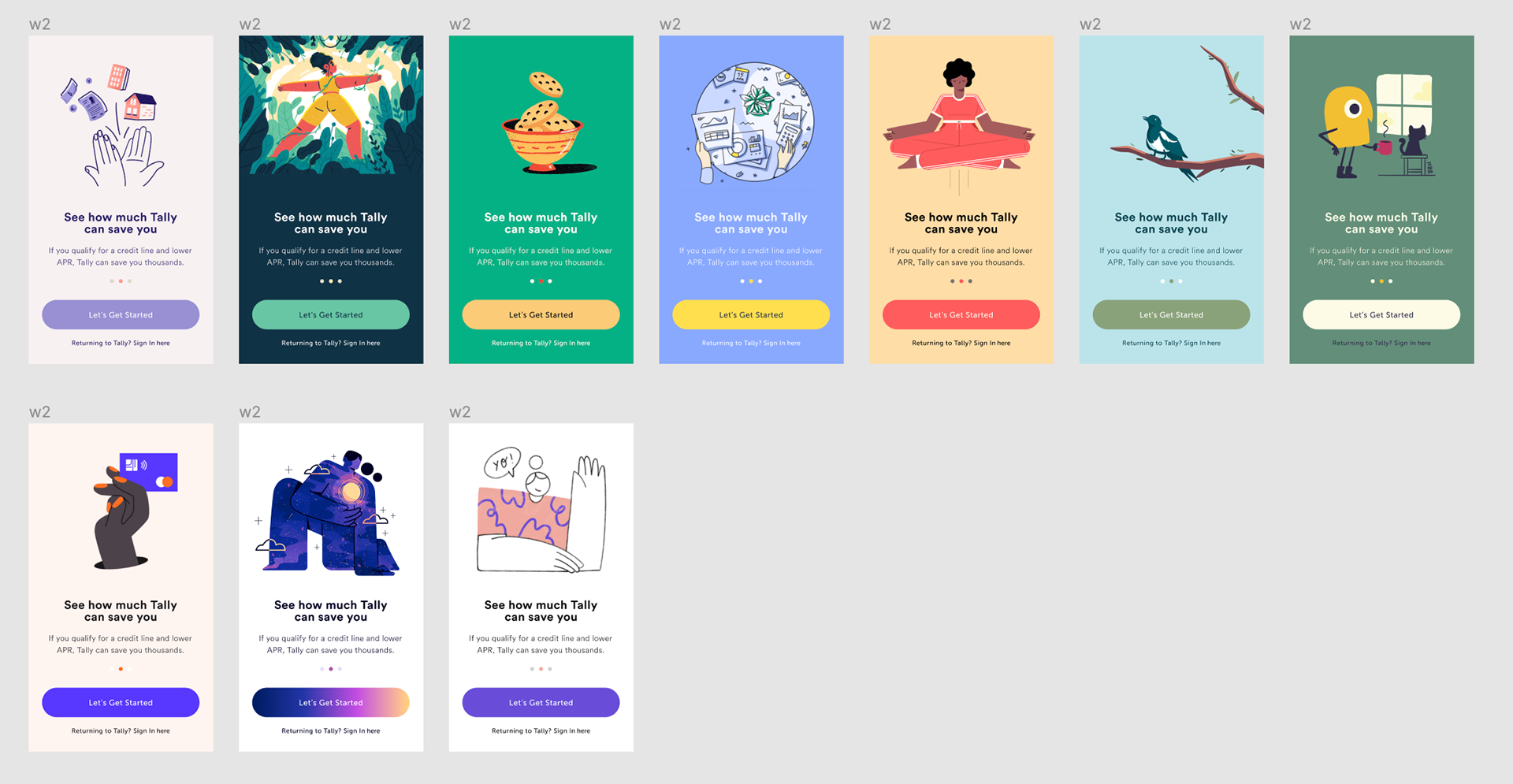 We narrowed our top choices down to two distinct palettes, one being an evolution of Tally's red, white, and blue, and the other a more stark departure in green and pink. From here, the intention was to explore expressions of each palette—thinking within the same family tree as to not go too broad, but considering how Tally might embody our values with a more nurturing, sisterly confidence compared to a headstrong, free-spirited confidence. We wanted to look more closely at the nuances of expression and play with the levers.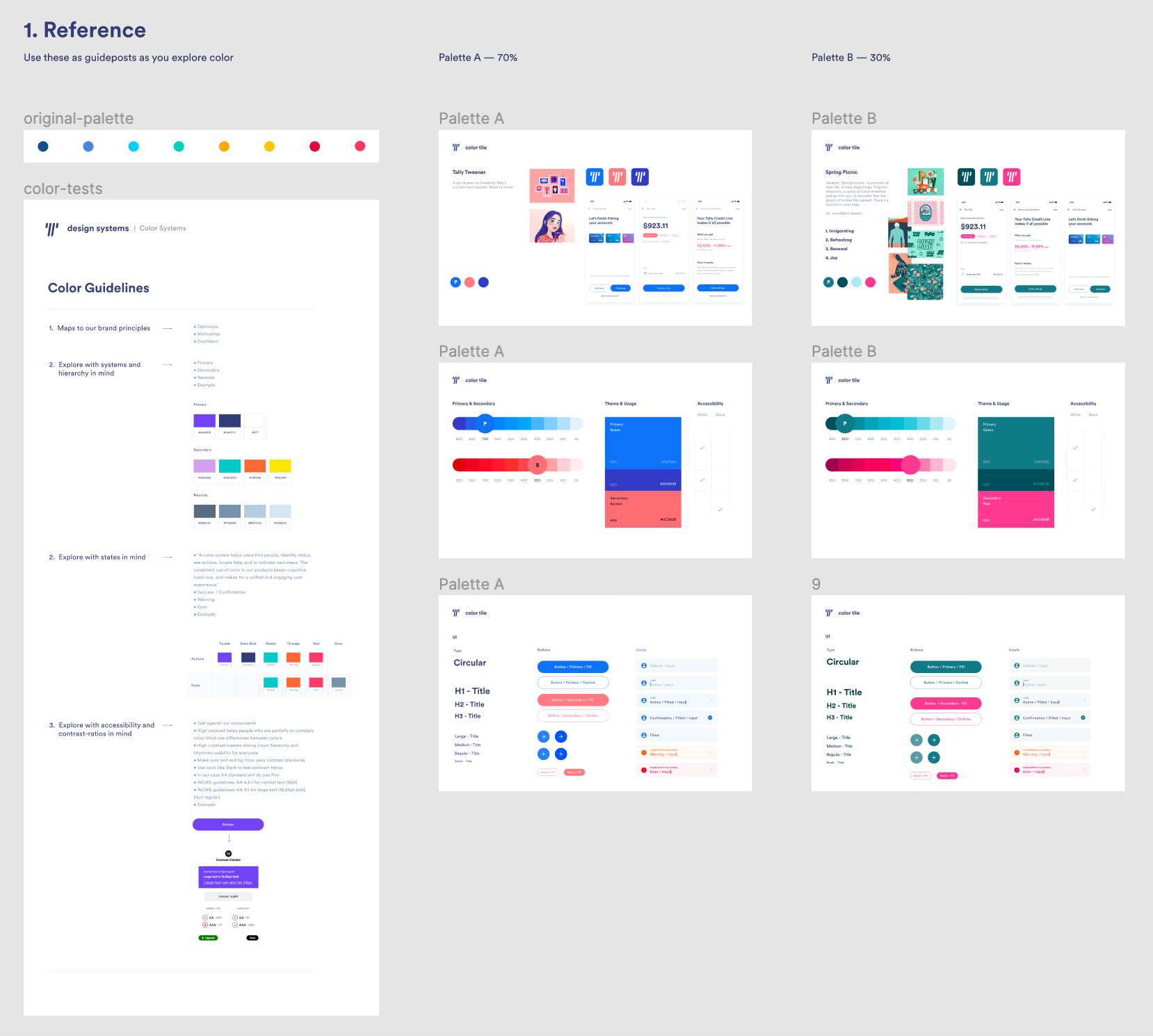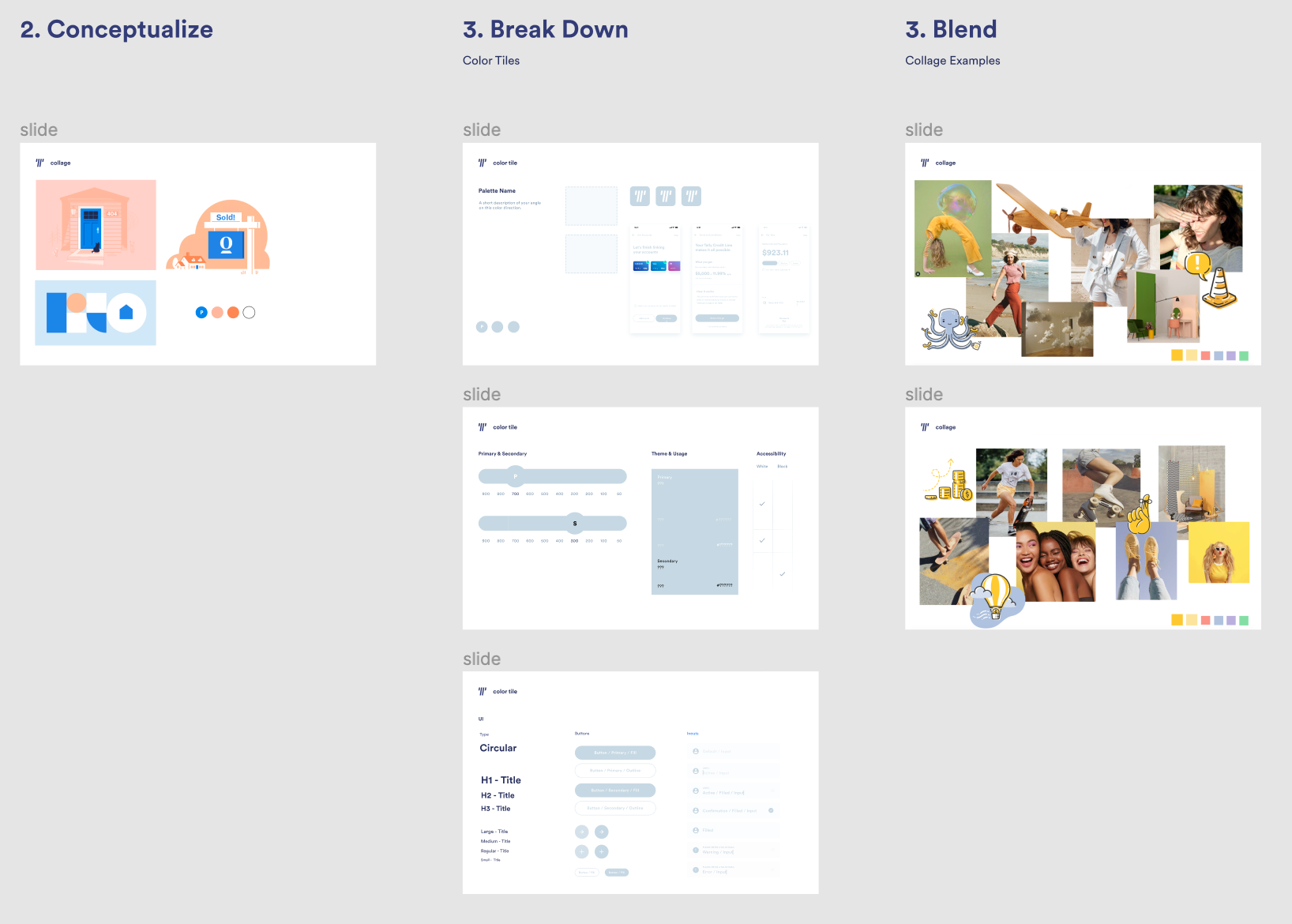 A major piece of this last leg of work was thinking in terms of how the elements will intermingle with each other. It's easy to begin thinking in silos—what looks good in a product or what looks good on social media—but when developing something as far-reaching as the color palette (in conjunction with new typography and photography) it is so important to consider the full ecosystem in which it will thrive.
To support this, we began creating collage boards in addition to our UI color tiles. The collages help to bring it all together and provide a window into each palette's unique world. In the end, I had put together ten palettes, 7 pulling the levers on our Tally evolution and 3 looking deeper into our divergent palette.
Each palette has its own expression, but the foundational colors remain consistent, playing with pinks/reds and blues/purple, or in the case of the divergent palette, pulling some of the unexpected colors from our inspiration images (like that gorgeous hot orange).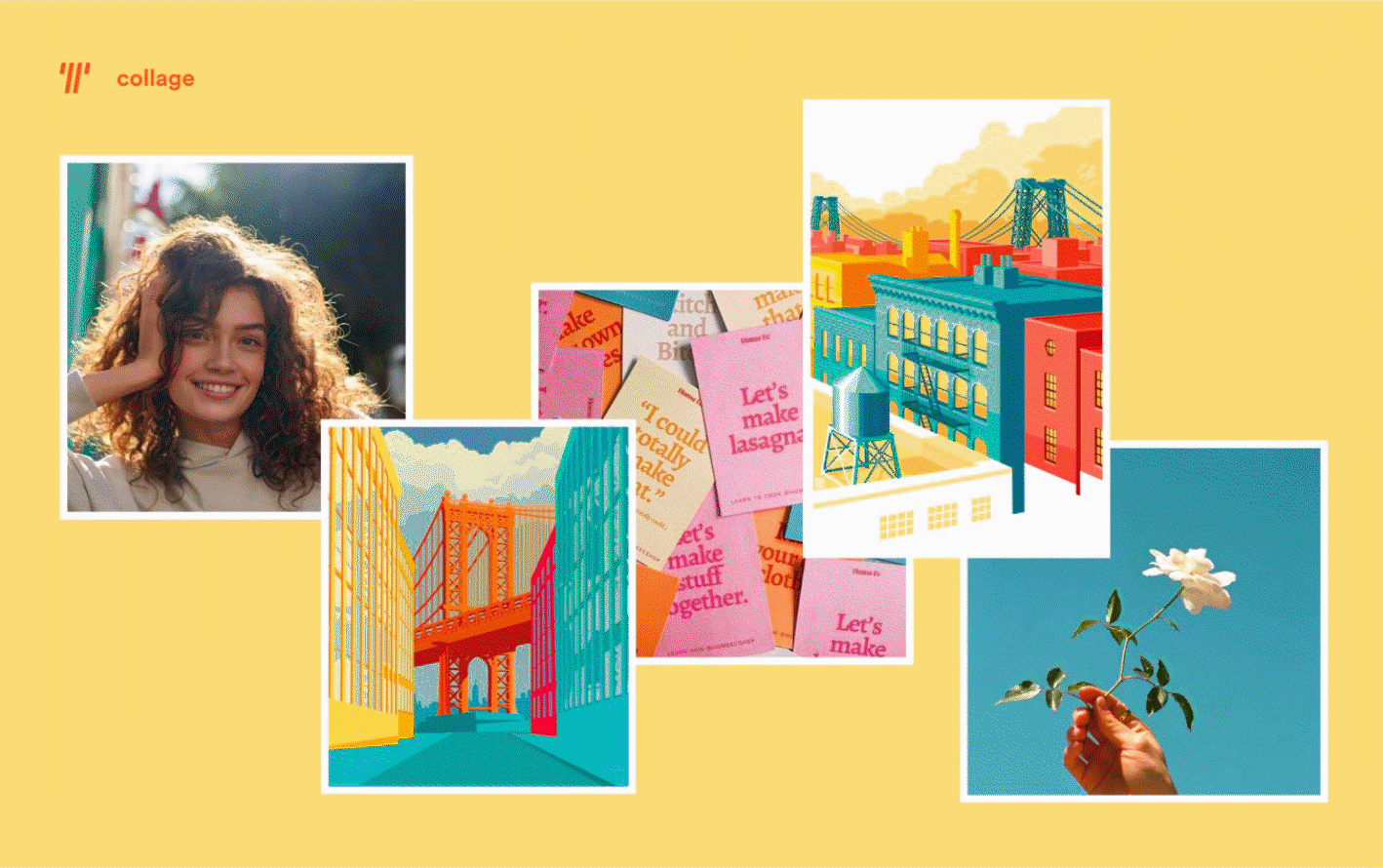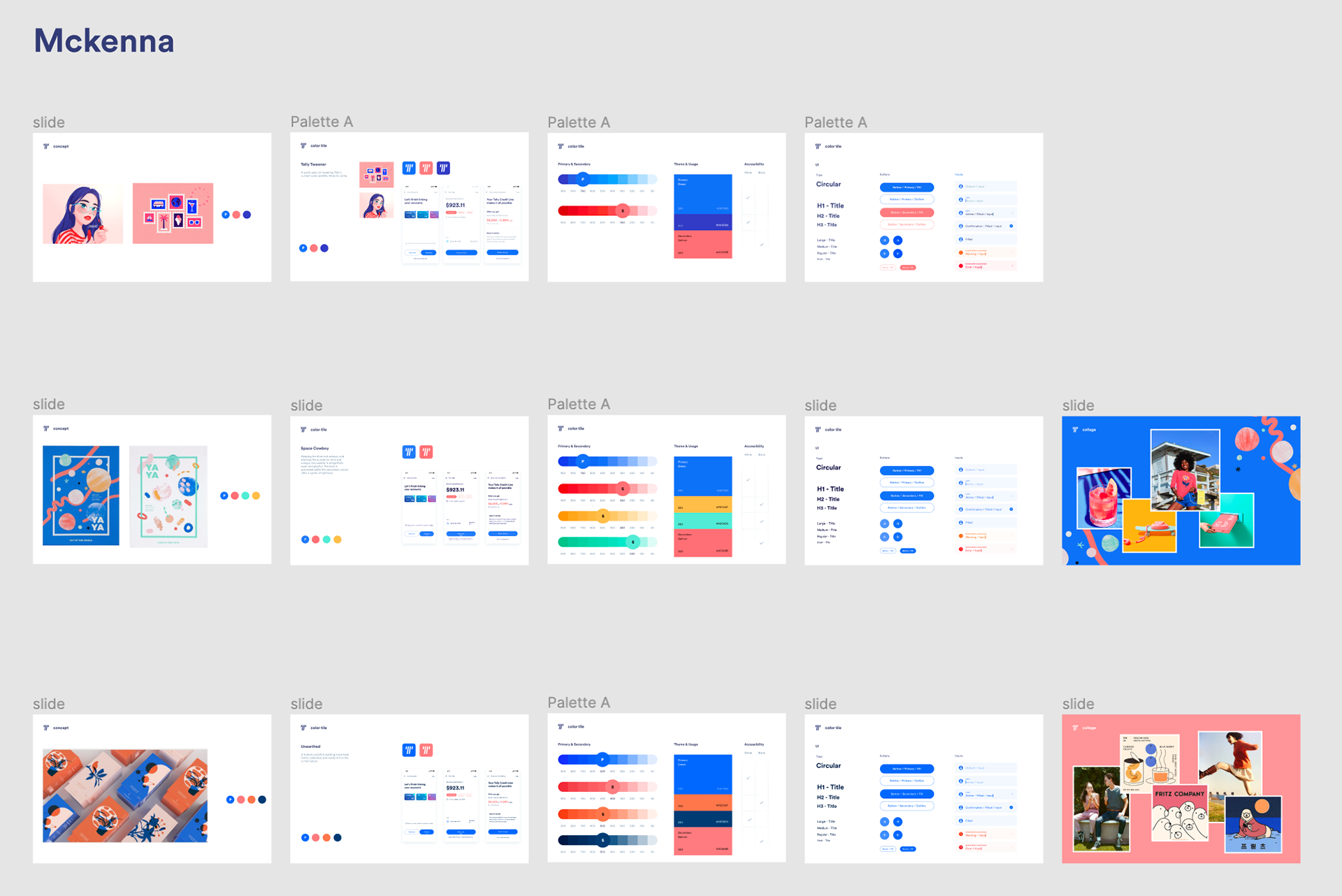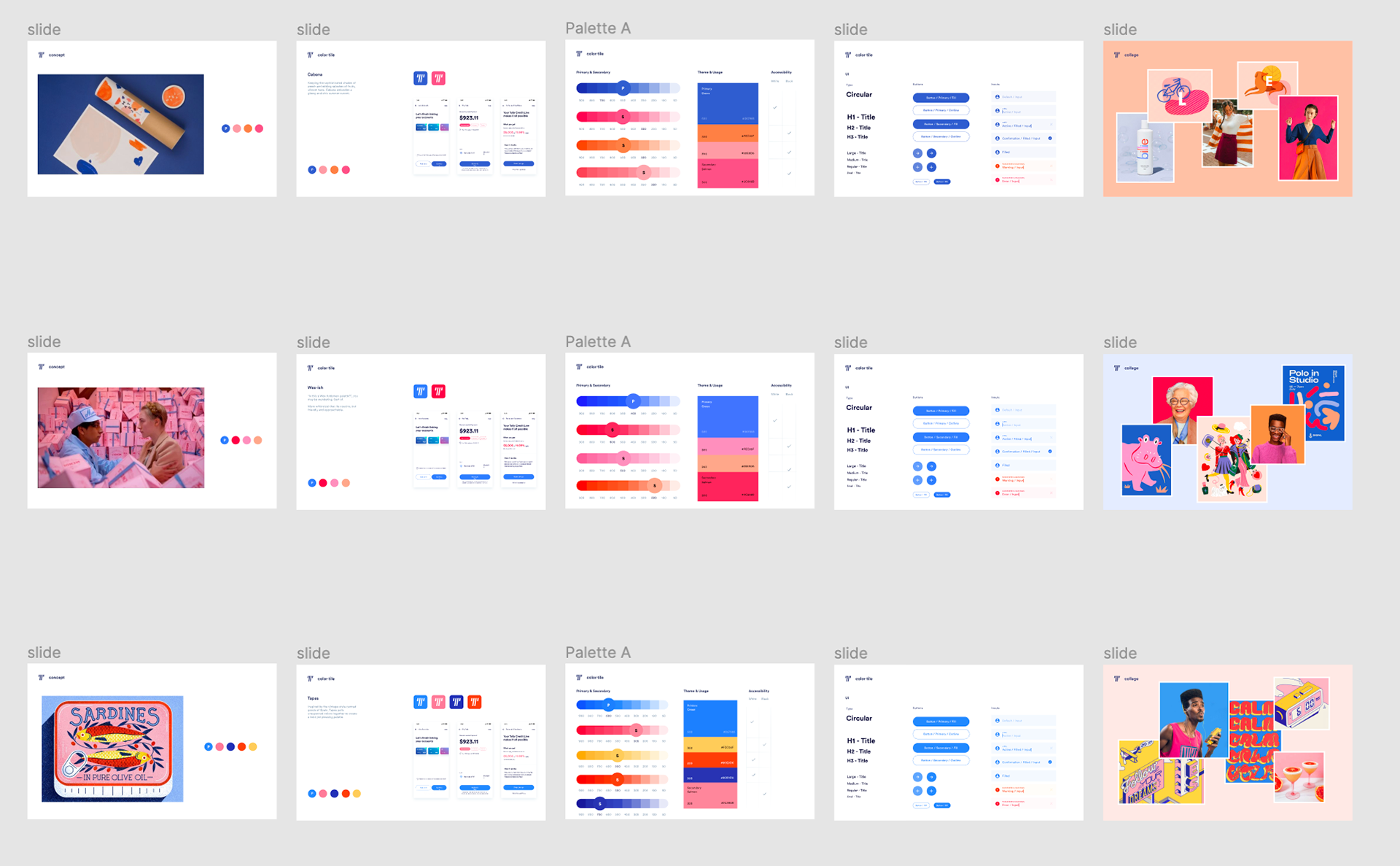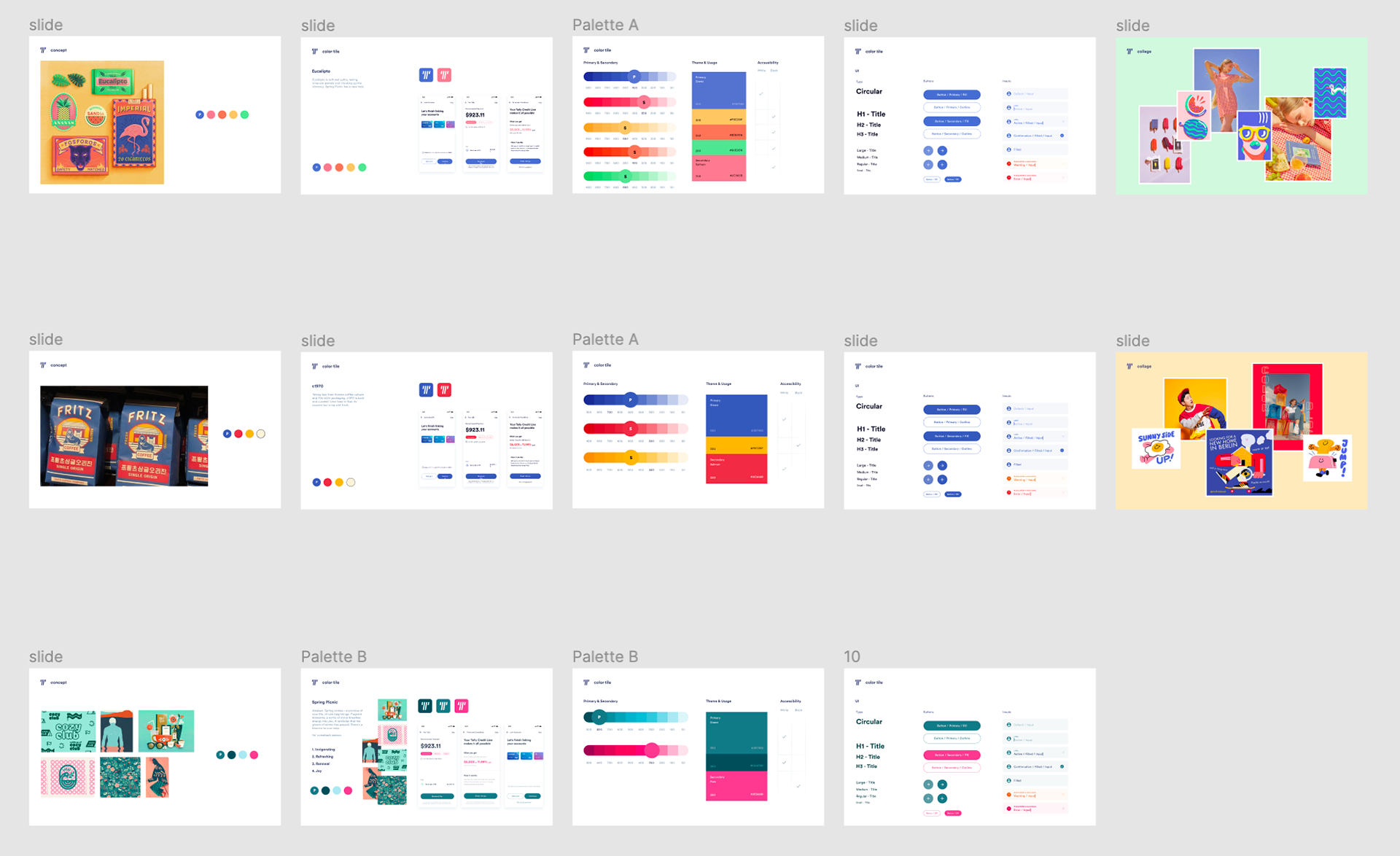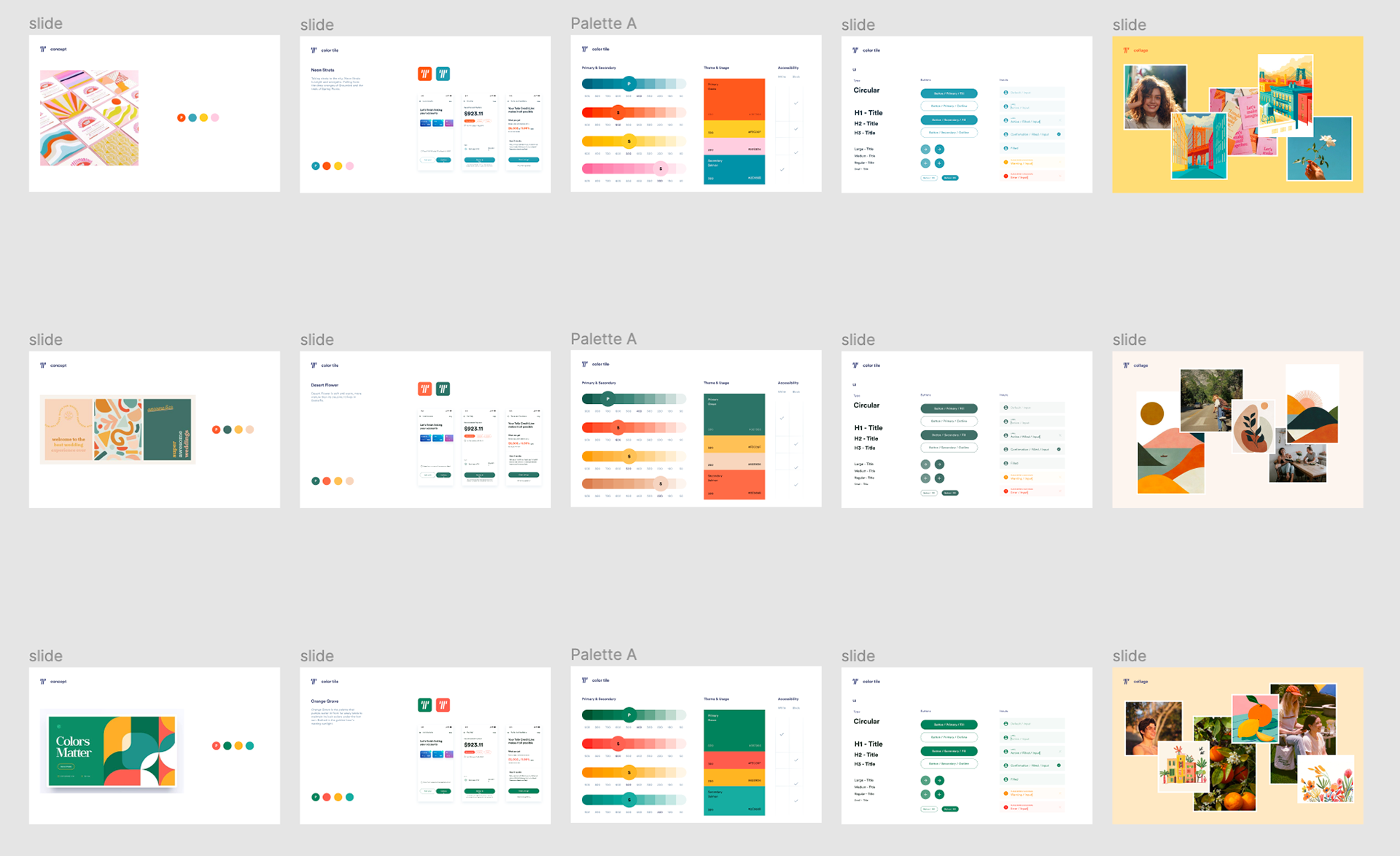 See a summary of the full process and where we left off in the GIF below: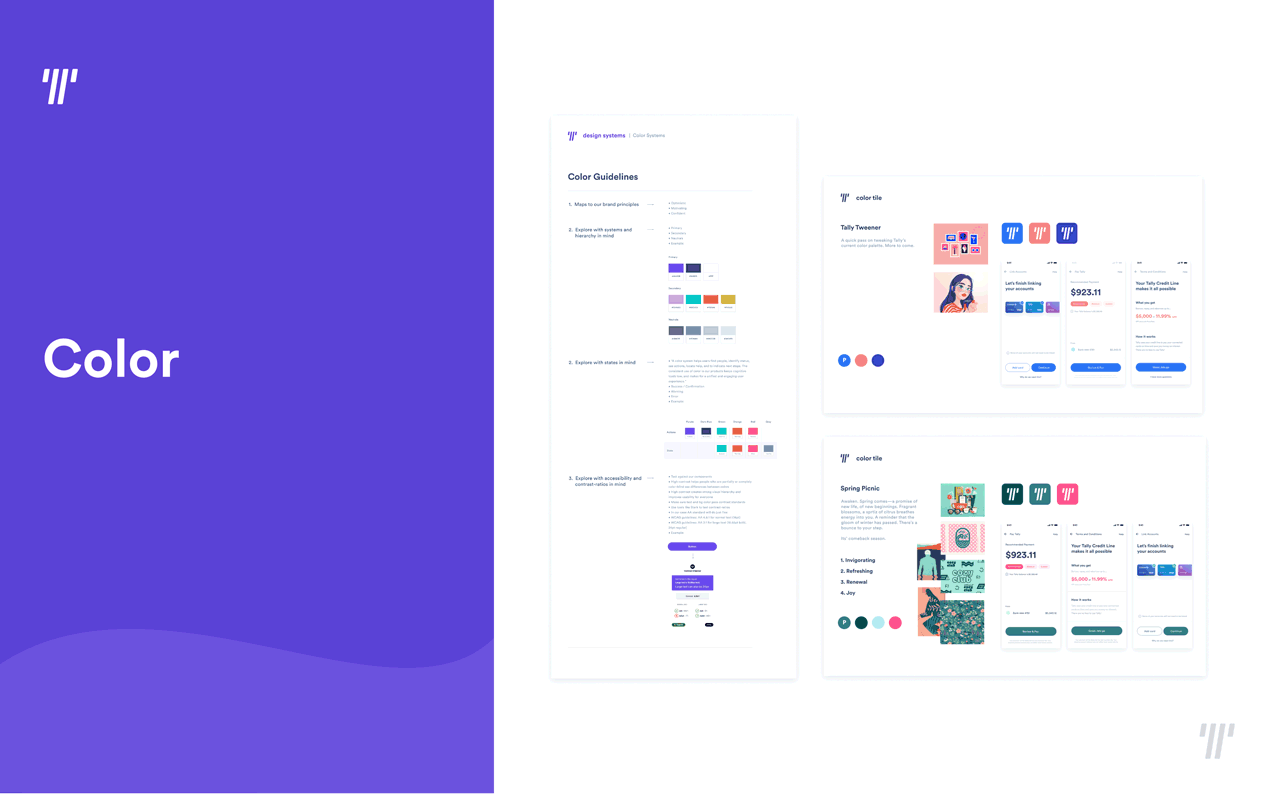 ASO
Like many start-ups, App Store Optimization was something that Tally didn't have the time and resources to invest in. When I joined that team, this was one of the first projects I wanted to tackle.
It's tricky to glean learnings around App Store creatives, and even trickier when traffic is low and statistical significance takes weeks or even months to reach. My first week at Tally, their first test (ever!) was finally coming to completion with less than stellar results. It was a huge leap in the right direction, but somehow it wasn't outperforming the basic white background with red text and black device frames that had been hunkered down since launching the app. From a design stand-point it didn't make sense, but the data didn't lie. I had my work cut out for me.
See below my competition:

My first instinct was to pare down. Tally has a very simple palette, primarily leveraging white and blue in-app, but the overlapping shades and gradients were starting to overwhelm the screenshots.
This process leaned on the product and marketing teams for insights into what kind of content users have responded to. Visually, I wanted to start fresh, knocking out the waves of blue and adding "shelves" to separate the copy that was now floating in a sea of white. The copy became bolder, and I used color or weight to emphasize key selling points. Four sets were born out of my first iterations, experimenting with illustration and angles. My bets were placed on the second row.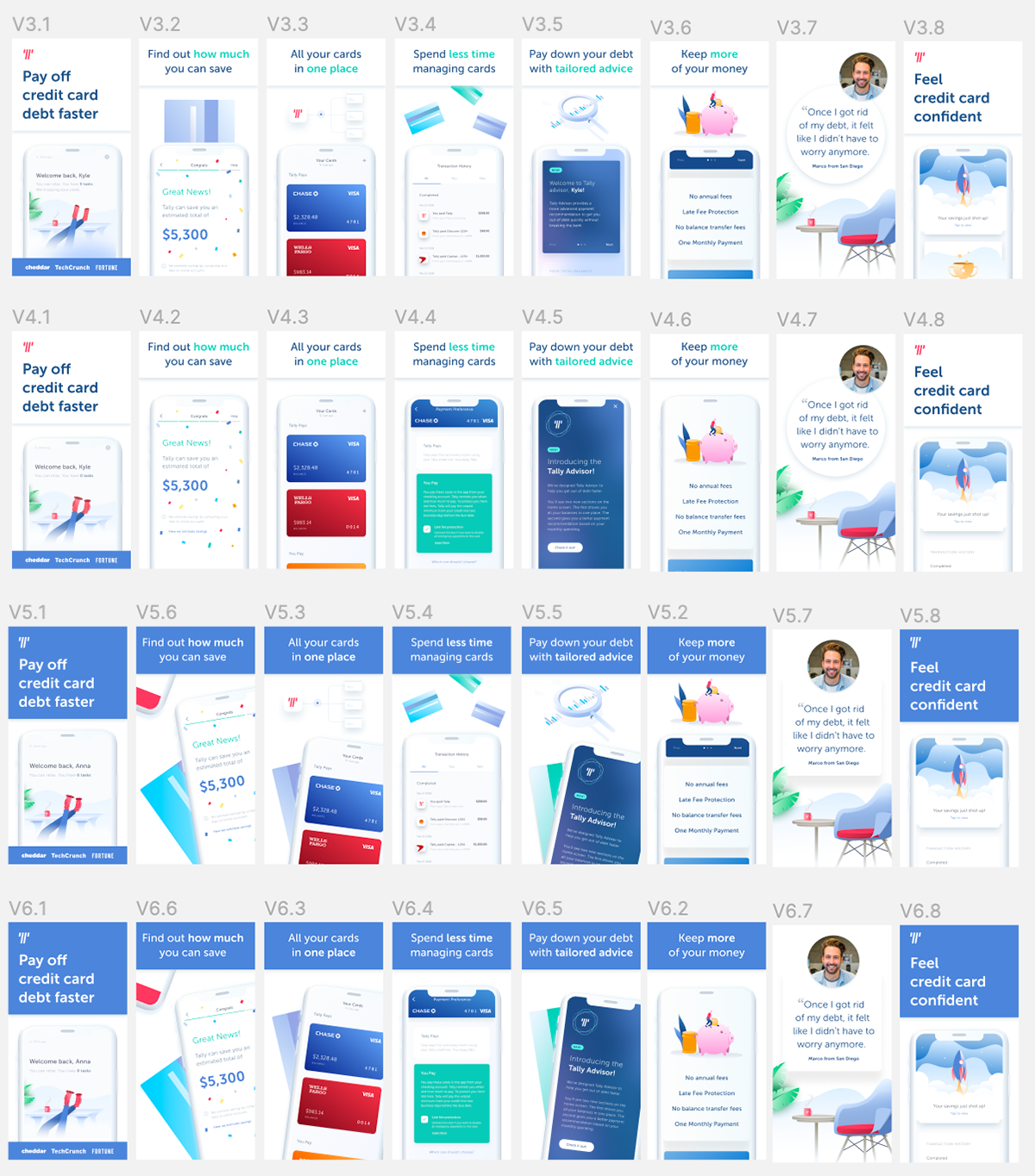 We had a winner. The second row had our first set of positive results in testing, a predicted uplift in conversion between +2.1% and +16.9% with a 90% confidence level, saving between $75 and $690 in acquisition costs.
It wasn't until mid-February that we found a new contender, removing the device frames and opening up more real estate for the in-app screens.

Ad Campaigns
With my focus on Tally Save, I spent most of my time making ads for the late app's launch. However, I occasionally had the pleasure of working with the two designated Tally Cards growth designers on campaigns for the flagship app.
Blog
I spent some time working with the marketing/communications teams to build out information visualizations. Below you can see two animations used in the Tally blog.